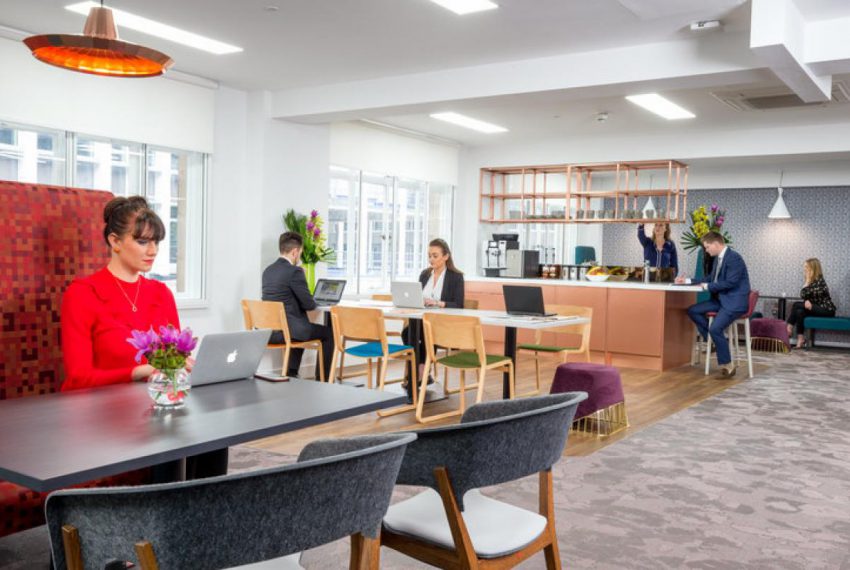 New to market: modern City serviced office and coworking space on Fenchurch Street
A fantastic City serviced office space and coworking development, newly opened on Fenchurch Street. If you're a small business looking for a flexible office space in the City of London, or a self employed professional, then this building is perfect for you.
This flexible work space offers 4 floors of City serviced offices and coworking lounges. The building has a modern interior, with excellent natural light in the offices, and colourful mid-century style furniture in the communal areas. The private offices are available on flexible terms to suit you, which is ideal for smaller businesses that are unable to commit to a long term lease. The serviced office spaces are of various sizes and there is the option to scale up to a larger space, if your headcount grows. Larger businesses can also rent a self contained office space, which spans an entire floor. Freelancers and self-employed professionals can also purchase a membership to the coworking lounge, which offers hot desking options, private telephone booths and a quiet space. This Fenchurch Street flexible work space also offers meeting rooms on demand and virtual office services.
The building has a professionally managed reception desk. It also offers quiet breakout spaces, bike storage and shower facilities.
About this City office space location
This serviced office space benefits from being in a first rate City of London location. Leadenhall Market is nearby, which is a popular location for grabbing lunch, or a drink after work. Plenty of major City of London buildings are also nearby, like 20 Fenchurch Street (popularly known as The Walkie Talkie, due to its unique abstract shape) and the Leadenhall Building. Fenchurch Street Station is just moments away.
Contact Us
We are City Office Space. We are one of the leading office broking firms in London and we know the City serviced office market inside and out. We receive updates on a daily basis about office spaces in the City of London and further afield. So if you're interested in this City office space on Fenchurch Street, or you're in the market for something similar, contact us today using the details below.
Telephone: 020 3434 3860